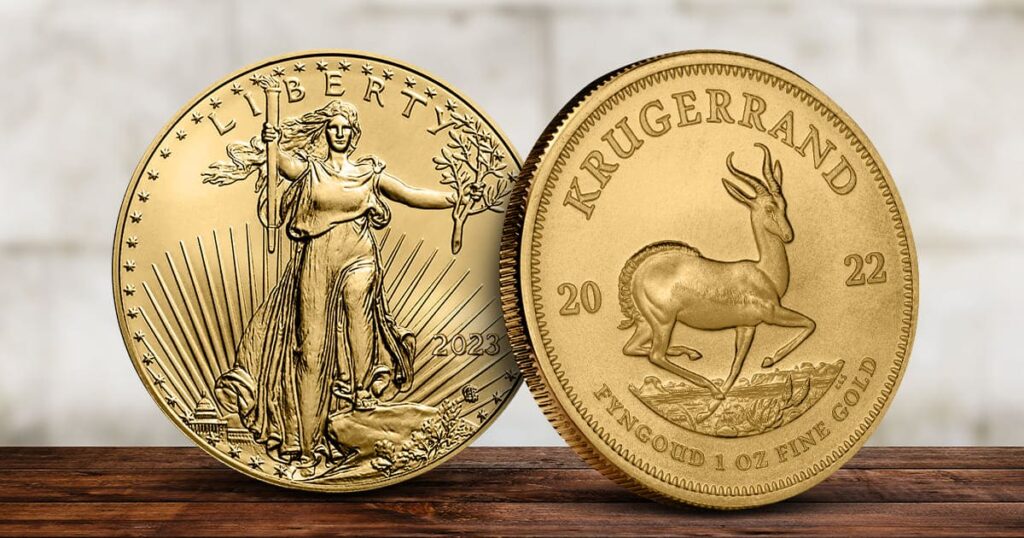 The first U.S. gold bullion coin from the U.S. Mint was a commemorative arts medal released in 1980. The medals contained 1 oz gold and were dedicated to Americans who had contributed to the arts. Frank Lloyd Wright, Louis Armstrong, and Helen Hayes were some Americans honored by this program.  
Unfortunately, these medals did not sell well. One of the main reasons was that the series did not display metal content or purity, which caused confusion. The lack of information on the medal made people uncertain of the product. Was it legal tender? What was the medal's intended use? Did it even contain gold at all? These medals' ambiguity made potential buyers skeptical and decide against purchasing them.  
Because this commemorative medal program failed, the U.S. Mint produced no more gold bullion coins until 1986. The Mint did see an opportunity for creating a more promising line of gold coins when the government banned the import of South African Krugerrands in 1985. The Krugerrand saw worldwide success since its release in 1967, but the United States banned importing new ones to protest South Africa's apartheid policies. With this popular gold coin off American markets, the U.S. Mint decided to take another stab at developing gold bullion coins. They came up with the American Gold Eagle in 1986 which had many of the same qualities as the Krugerrand in hopes that it would have greater appeal.   
The Gold Eagles mimicked Krugerrands dimensions and gold content. These new coins consisted of 22 karats of gold rather than 24 karats. The American Gold Eagles had an alloy of 91.67% gold, 3% silver, and 5.33% copper and 1 troy ounce of gold. This alloy combination made the coins harder and more durable than coins made from pure 24k gold. The U.S. Mint stated that this was done to ensure the coins would remain in circulation for a longer period, making them easier to use as a form of currency. The copper helps protect the gold coins from scratches and allows them to last much longer than other gold coins.  
The American Gold Eagles are a prime example of how the U.S. government has responded to market needs by creating a gold coin that is both durable and recognizable. Gold Eagle coins have become an important part of the gold bullion industry and are now one of the most popular coins among collectors and investors.