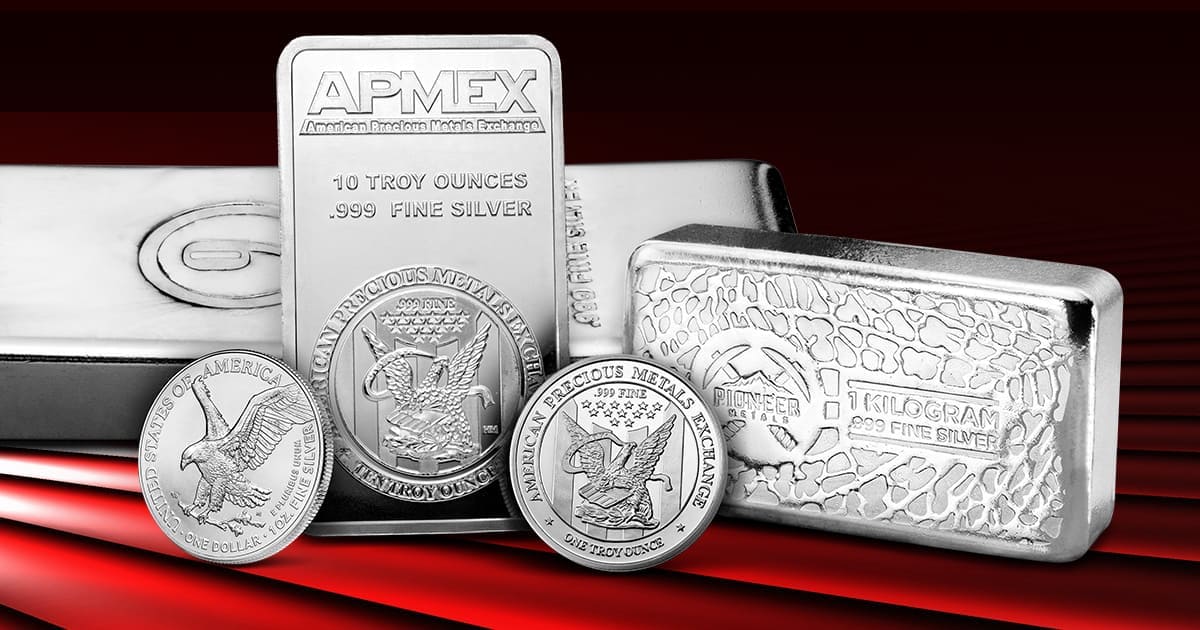 Here are Questions to Keep in Mind Before Buying Silver
It can be easy for first-time Silver investors to feel overwhelmed by the many options and prices available on the market today. The choices can seem endless, but there is no "wrong" way to purchase Silver. Investing in Silver is primarily a decision on what options best suit your needs, investment strategies and budget. To help with initial research, here are a few general questions to keep in mind before you buy Silver.
How Much Should I Spend?
When a person refers to the Silver price, they are typically referring to the Silver Spot Price. The spot price of Silver is the current price in the Precious Metals marketplace that a raw ounce of Silver can be bought and sold. The price of that Silver fluctuates throughout the day based on the world market conditions, geopolitical events, supply and demand and various other factors. Investors must be aware of current events and market conditions as they both affect the buying and selling of Silver.
Due to the ever-changing Silver prices, keeping up to date on the current spot prices is essential in developing an investment strategy or purchasing decisions. APMEX offers live and historical Silver price charts for investors to view the most current prices and provides an opportunity to learn about past trends. Once you have the basic idea of spot price charts and the periodic trends, it will be easier for an investor to decide on their purchasing strategies.
What Type of Silver Should I Purchase?
Silver is a popular Precious Metal that comes in various forms, such as Silver coins, rounds and bars. Many new investors wonder how to decide which Silver for sale is best for their collections. Since Silver bullion comes in a variety of shapes and sizes, investors and collectors should familiarize themselves with all their different options to see what best fits into their collections.
Three of the most popular options when looking to buy Silver bullion are coins, rounds and bars. Each option comes with its own set of benefits that may fit one's investment strategies better than another.
Coins
Silver coins can be used as currency as they are often from a sovereign mint but are more valuable when used as investments as their fine Silver value is typically higher than their denomination. Silver coins have unique designs, making them perfect for anyone who wishes to display their assets.
Rounds
Rounds are often confused with coins due to their similar shape, but, unlike coins, rounds do not have a denomination or currency face value. The value of Silver rounds are based only on their Silver content. Premium rates on rounds are typically lower than coins, depending on the size of the round, which is important to keep in mind while making purchasing decisions to fit your budget.
Bars
Silver bullion bars are pressed into a rectangular shape, perfect for stacking and storing on top of each other. Bars are a popular choice with investors because they also have lower premiums than Silver coins, much like rounds, making it more affordable to buy Silver in bulk.
What Payment Methods Can Be Used to Buy Silver?
After deciding what type of Silver you would like to purchase, you must select your payment method. There are many options for payment methods; the most common methods are Credit/Debit Cards, Bank Wires, Paper Checks, and PayPal. Customers are advised to check with their dealer regarding accepted payment methods and any policies or restrictions surrounding these methods.
Suppose you prefer a quicker payment method or turnaround time, using a credit/debit card or PayPal to complete your purchases. Payment options such as paper checks and bank wires have longer processing times and result in a longer turnaround time between purchase and receiving your product.
A complete list of APMEX's accepted payment methods are as follows:
Credit/Debit Cards (excluding prepaid cards)
PayPal
Bank Wire
eCheck
Paper Check
Bitcoin (BTC), Bitcoin Cash (BCH), Ethereum (ETH), Wrapped Bitcoin (WBTC), Dogecoin (DOGE) and 5 USD-Pegged Stablecoins (GUSD, USDC, PAX, DAI and BUSD).
How Should I Store My Silver Bullion?
After you purchase your Silver bullion and complete the check-out process, the only decision you have left is how to store your new Silver product. Two of the main priorities for your storage options are both convenience and safety. For most customers looking for storage options after they buy Silver, their decision may be to store at home or in a third-party facility.
Home Storage
If your main priority with storage is convenience and accessibility, home storage is the best option. There are a few choices when it comes to storing your Silver at home, both with their advantages and disadvantages. Secret storing around your home is the easiest and cheapest way to hide your Silver bullion, but it does leave your investment open to physical harm such as water damage or natural disasters. Another option for home storage is investing in a safe. Safes may be more expensive than secret storing, but it does provide an extra layer of security around your Silver.
APMEX offers several products to help customers wishing to partake in-home storage for their Silver bullion. Our selection includes anything from bar and coin storage boxes for secret storage to safes for more secure storage in your home.
Third-Party Storage
Some investors may feel like home storage requires too many risks and responsibilities, leaving their investments vulnerable to break-ins or natural disasters. For those who prefer a separate location to store their Silver, third-party storage is the best choice. Third-party storage institutions typically have high levels of security and have been constructed to provide the best storage conditions possible to protect your Silver. While third-party storage costs more than home storage, these facilities offer better security for your investments.
One option for third-party storage is Citadel Global Depository Services, a subsidiary of APMEX. Citadel secures your Silver by protecting against physical damage, theft and loss of property. Along with the storage, a web page is provided detailing your items in storage so you can monitor their real-time market values.
Should I Buy My Silver Online or Locally?
On a high level, buying Silver bullion online or locally is similar. Each has a selection of Silver to choose from and then you make your purchase. There are considerable differences between purchasing Silver for sale at a local coin shop and ordering Silver bullion online, affecting the overall shopping experience.
Buying Silver from a Coin Shop
Shopping from local shops to buy Silver may bring the satisfaction of walking out of the store with your Silver bullion that same day, but it has its restraints. With local coin shops, you must make sure to visit the store within their business hours and you are limited to whatever selection they have on hand. Local coin shop selections are typically decided by the size constraints of the store and the preferences of their smaller client base, which may significantly limit the Silver for sale.
Possibly the most prominent problem customers experience while shopping at local coin shops is authentication, price fairness and product guarantees arising before and after purchase. There is no way to truly be assured in a shop of the product's quality before leaving the store with the Silver bullion you have purchased – sometimes without an option to return.
The Best Way to Buy Silver Bullion is Online
Purchasing Silver bullion online enables customers to experience various benefits that are not available with local coin shops. One of the important benefits is access; reputable online dealers are available 24 hours a day and can be accessed anywhere using a computer or telephone. The accessibility granted by online access to Silver means customers can shop Silver for sale without any time or location limitations.
Buying online also provides customers with more comprehensive selections while browsing Silver bullion. With no restricting space from a small store or the need to accommodate a small selection of local buyers, online dealers can hold a large variety of products to fit any buyer's needs. These more extensive selections typically come from working directly with government mints and private mints to assure customers of the authenticity and quality of the Silver bullion before making a purchase.
Buying online is also the easiest and quickest way to buy from APMEX. Completely secure and fast, buying online is a popular way to buy Silver. Buying Silver online at APMEX ensures you are buying in a safe and secure environment.
There are benefits from buying Silver at APMEX that are not available elsewhere:
Large selection of Silver bullion.
High quality and valuable Silver.
Fastest in shipping.
Fair and transparent pricing.
Online shopping and shopping by phone.
While there are many ways to purchase Silver, knowing you are getting an authentic and guaranteed product is essential. The best way to buy Silver is through a reputable dealer such as APMEX.
Buying Silver Bullion Online with APMEX
Buying Silver bullion online with APMEX or over the phone with our customer service representatives guarantees high-quality products and safe delivery. If you have any issues while placing your order on Silver for sale with APMEX, we are happy to assist you. Our team of highly trained customer service associates can answer any questions you may have by email or telephone. Our APMEX team can be reached at (800) 375-9006 or service@APMEX.com.
Expand your collection today and shop our assortment of Silver bullion here.
Silver bullion makes for a great investment opportunity; for any questions regarding the eligibility of any specific Silver products in your investment portfolios, please consult your financial advisor.