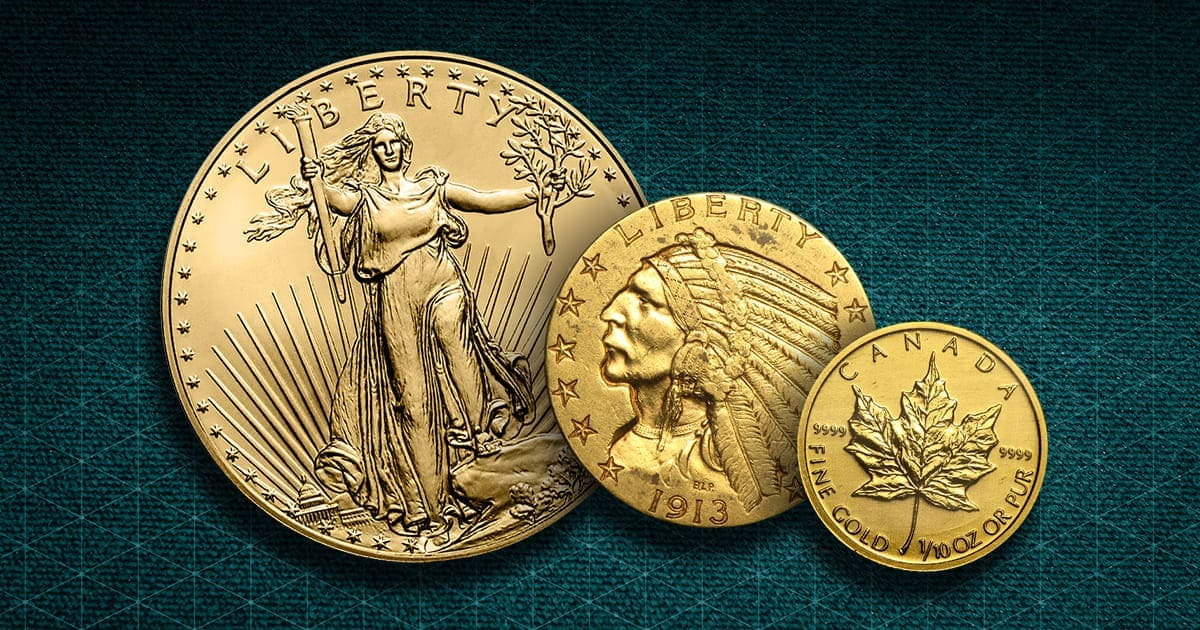 Is the Tarnish on My Gold Coins Spoiling My Investment?
This primarily depends on what you have invested in. Is your investment one with numismatic value?
Pure Gold Does Not Tarnish but Copper and Other Metals Do.
Gold is a noble metal, and the least reactive noble metal, to boot. Where does tarnish come from then?
Tarnish occurs because of reactions between other metals the gold is alloyed with, like copper, as well as environmental factors like moisture, oxygen, and sulfur.
How Does Tarnish Affect My Gold Coin's Value?
Tarnish can affect the appearance of your gold, turning its bright and radiant luster to a dull or discolored finish. This can impact your gold's perceived value.
If you have invested in bullion that does not primarily derive its value from numismatic worth, tarnishing should not greatly impact its value. Exceptions to this include tarnish that discolors the coin or if the coin is exceptionally rare in its condition.
The appearance and condition of a gold coin are essential factors in determining its value. Collectors and coin shops may consider a tarnished coin less desirable, but if you have a 1 oz gold coin, tarnish will not change the gold weight.
If you have invested in new coins with high numismatic value, tarnish can impact the coin's value. If the tarnish is minimal and the rest of the coin is in good condition, you should still be able to sell it without taking a significant loss.
Ironically, if your coin is ancient or was recently unearthed after years in the ground, it may display natural toning and/or discoloration that many collectors consider desirable. In this case, tarnishing and toning can increase your coin's value.
How Do I Stop the Tarnish and Prevent Other Gold Coins from Tarnishing?
Here are a few tips to prevent your gold from tarnishing.
Don't handle your coins bare-handed; try to limit overhandling them with gloves. Oil from your hands contributes to imperfections, tarnish, and discoloration.
Store your gold coins in a cool, dry, dark place. Heat, moisture, and sunlight can accelerate the rates of tarnish and discoloration.
Make sure your gold coins are in airtight holders that will not react with the metal. Avoid PVC flips, holders, and albums. These have largely been phased out, but PVC contamination is contagious; when one coin displays this, it can spread to the other coins in your collection.
Never try to clean or wash your coins. Moisture from water and residue from chemicals can result in further damage to your investment. It's best to leave restoration to the professionals.
Can Tarnish be Removed From Coins?
It is possible to remove some tarnish from gold coins. There are several methods to do this, but they involve harsh chemicals or specialized machinery. If your gold has begun exhibiting tarnish, it is best left to professionals to restore. Both NGC and PCGS have coin restoration services.
Having a reputable grading service evaluate and grade your coins before selling or trading them is always a good idea.