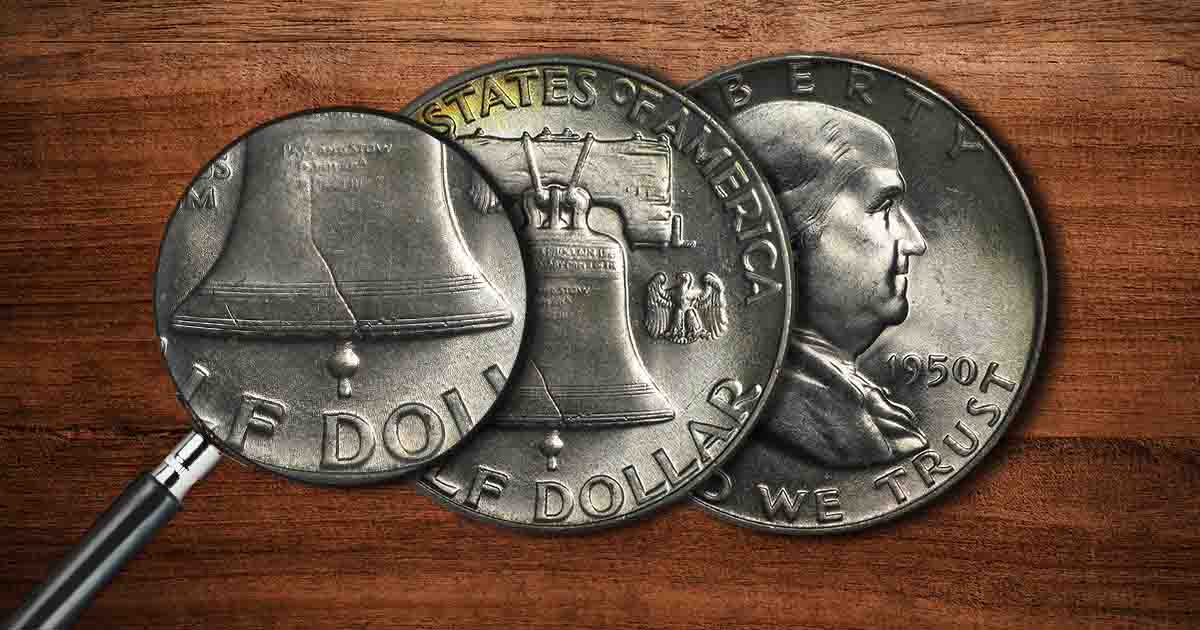 When a Franklin half dollar's reverse features the Liberty Bell with two complete, uninterrupted sets of lines at the base of the bell, they are eligible for a Full Bell Lines designation. Full Bell Lines designations are only applied to circulation or business strike Franklin Half Dollars.
The Franklin Half Dollar series ran for less than 20 years, making it the shortest lived half dollar series that was issued after the Civil War. The first U.S. coin for circulation that featured a real person from history who was not a president was the Franklin Half Dollar. It was replaced by the Kennedy Half Dollar series after President Kennedy's assassination.
These coins present an iconic image of the Liberty Bell on their reverse, and many strikes left the lower lines of the bell broken or incomplete.
How are Full Bell Line Half Dollars Graded?
Full Bell Line Franklin Half Dollars are coveted coins in short supply. Since the series itself ran for a short length of time, it can prove challenging to find FBL half dollars, particularly among certain year issues.
PCGS Full Bell Lines Grading
For a Franklin Half Dollar to receive an FBL designation from the Professional Coin Grading Organization (PCGS), it must have a Sheldon grade of MS-60 or greater. Coins with grades AU-58 and below are not eligible for the designation.
Other criteria for obtaining a Full Bell Lines designation are a lack of major cuts or distracting marks in the bell lines and full separation of lines at the base of the bell.
NGC Full Bell Lines Grading
The Numismatic Guarantee Company (NGC) has one less criterion for judging a Full Bell Lines Franklin Half Dollar. For a Franklin Half Dollar to achieve a Full Bell Lines designation from NGC, all horizontal bell lines must be separate.
There is no minimum Sheldon grade for NGC's FBL designation, although most Full Bell Lines they award are to Mint State coins.
Value of a Full Bell Lines Franklin Half Dollar
While the scarcity of the Full Bell Lines half dollars varies among the series, they can prove difficult to find across the series.
This, in conjunction with other factors like the short lifespan of the series and issues with softly struck coins from weak hubs, makes FBL Franklin Half Dollars rare and valuable as a rule.
In 2019, a Franklin Half Dollar with Full Bell Lines was sold in MS-66+ condition for just over $85,000.
Is My Proof Franklin Half Dollar Eligible for the FBL Designation?
Proof Franklin Half Dollars do not receive the FBL designation because of the way that proof coins are struck.
Since proof coins are struck multiple times for a superior strike, all proof Franklin Half Dollars should demonstrate full bell lines.