According to the RBFO, Oklahoma is the Fifth Hungriest State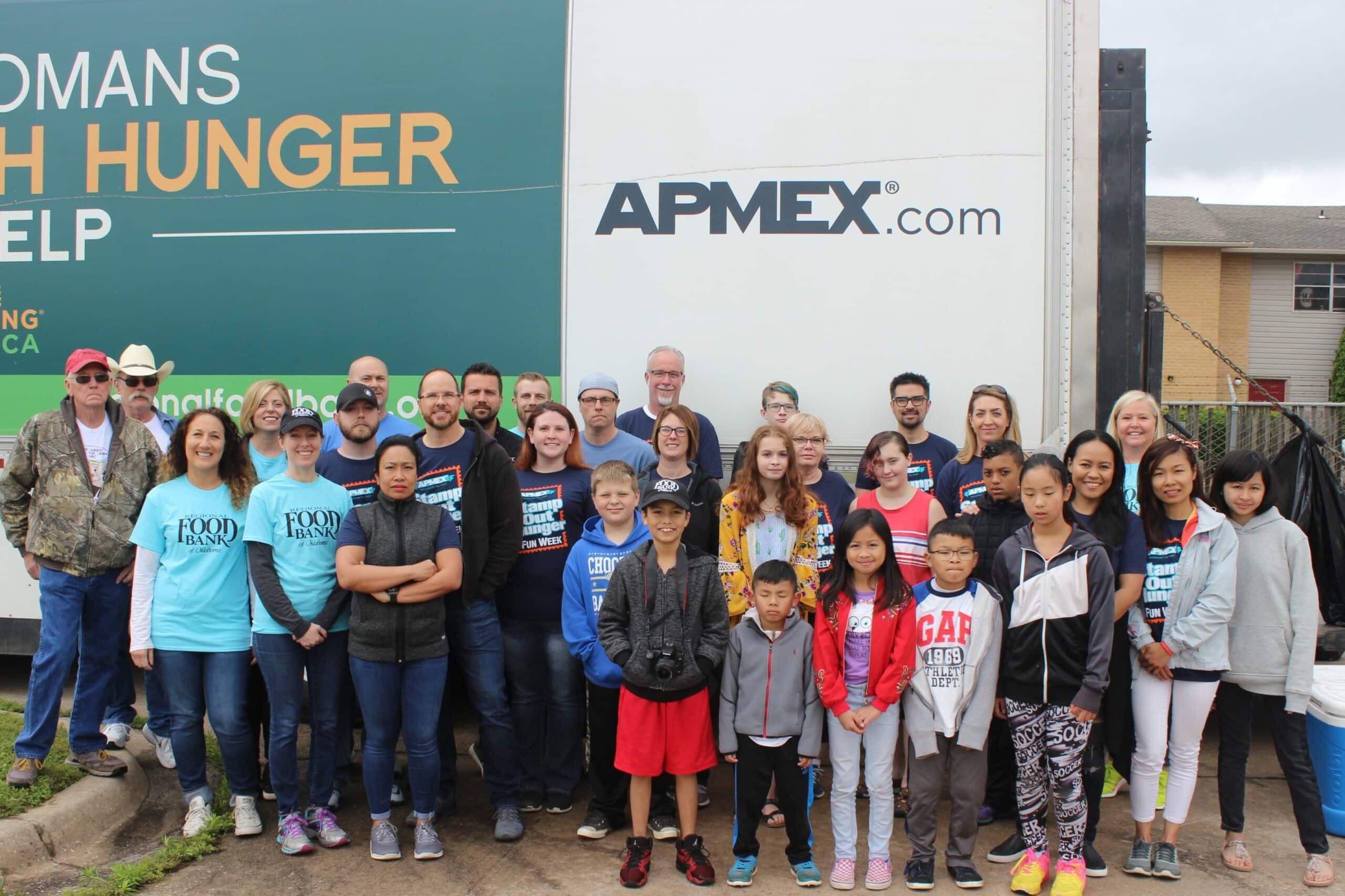 OKLAHOMA CITY (Nov. 16, 2020) – Oklahoma is the fifth hungriest state in the nation, according to the Regional Food Bank of Oklahoma. Leading online precious metals retailer APMEX is working to change this statistic by partnering with the local food bank for its holiday match campaign.
APMEX is donating $500,000 to the Regional Food Bank for this match. The company's commitment will help provide millions of additional meals to hungry Oklahomans.
"I struggled with hunger growing up, so I personally understand the challenges many Oklahomans face and how difficult it can be, especially around the holidays," said APMEX Founder & President Scott Thomas. "One of APMEX's core values is giving back to the community and we are honored to partner with our local food bank. Many problems arise when access to nutritious food is limited and APMEX wants to ensure all Oklahomans have the support they need and deserve. Nobody should go hungry."
Over the past five years, APMEX and its employees have banded together in varied ways to fight against hunger, including completing over 1,200 service hours, leading volunteer efforts, and contributing $1.6 million to the cause.
Stacy Dykstra, CEO of the Regional Food Bank of Oklahoma, said the continued support of APMEX over the years has helped the nonprofit provide food assistance to chronically hungry children, seniors living on fixed incomes and households struggling to make ends meet.
"We appreciate APMEX employees' generous spirits and commitment to serving their community," Dykstra said. "APMEX's partnership will help us provide nutritious food to Oklahomans this holiday season, and we are incredibly grateful."
Every $1 donated through the holiday match program generates eight meals. Since APMEX began its match program partnership in 2016, the campaign has leveraged $8.5 million in charitable gifts for the fight against hunger.
To take advantage of APMEX's matching donations, visit rfbo.org/give or call 405-600-3161.
About APMEX
Since opening our doors in 2000, APMEX remains one of the largest sources in the Precious Metals industry. Over the last two decades, we have sold more than $11 billion in Gold, Silver, and other Precious Metals in more than 60 countries around the world. For additional information, visit APMEX.com or call (800) 375-9006.
About the Regional Food Bank of Oklahoma
The Regional Food Bank of Oklahoma is leading the fight against hunger in 53 counties in central and western Oklahoma and envisions a state where everyone, regardless of circumstance, has access to nutritious food. Founded in 1980, the Regional Food Bank is the state's largest hunger-relief 501(c)(3) nonprofit that distributes food through a network of community-based partner agencies and schools. The majority of people served by the Regional Food Bank are chronically hungry children, seniors living on fixed incomes and hardworking families struggling to make ends meet. The Regional Food Bank is a member of Feeding America, the nation's network of food banks. To join the fight to end hunger, visit rfbo.org.